EXCLUSIVE: Eyewitness on Antarctic Ship Rescue
Grateful Tourists Were Moved to See Help Come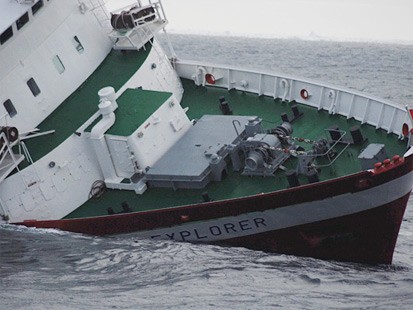 Aboard the National Geographic Endeavor, Capt. Oliver Kruess was the first to see the stricken tourist ship Explorer from about 15 miles away.
The captain and his team had been on high alert for several hours, when the 1:45 a.m. distress call was broadcast announcing to all ships in the region that the 100-passenger vessel had apparently hit an iceberg and was taking on water.
Around 3 a.m. all of Explorer's passengers — plus some crew, though not the captain and a dozen staff who would stay on board for several hours more — were put into the ship's lifeboats and Zodiacs (small inflatable boats).
The Explorer was in the middle of a 19-day tour of South Georgia Island and the Antarctic Peninsula.
Twelve miles south of King George Island at the accident position, it was still dark, the air temperature in the low 30s, with water temperature a degree or two below freezing.
As part of the Endeavor's staff, representing National Geographic on board during a month of touring the Antarctic Peninsula region and simultaneously scouting a sea kayak expedition here, I was awoken at 3:30 a.m. by expedition leader Tim Soper.
Vessel Steams to Help
At a hastily prepared staff meeting, it was announced we were steaming to the location of the Explorer, followed by the Nord Norge, a big, 700-passenger Norwegian cruise ship. The Norwegian ship would be the coordinating rescue vessel, because it had room on board to accommodate survivors.
A Brazilian navy ship an

d a Ch
ilean helicopter
were
also en route.
We reached a line of orange lifeboats and black Zodiacs shortly before 7 a.m. Passengers in each boat were wet, appeared stunned and were obviously moved by spotting the rescue ships headed their way.
Accidents in the Antarctic by tourist ships is not uncommon. Last year, the Nord Cap, the sister ship to the Nord Norge, ran aground near Deception Island and had to unload its passengers onto the Norge. The last ship to sink in Antarctic waters was the Bahia Paraiso, which sank off Janus and DeLaca islands in 1989. With 25,000 tourists now visiting each year, on more than 50 ships, accidents are an increasing concern.
According to one of the Explorer's crew, the ship had apparently hit something — most likely an iceberg — which made a fist-size hole in the hull. There may have been another hole. The Explorer was the very first tour vessel to operate in Antarctica; it was built in the 1960s by expedition tourism veteran Lars-Erik Lindblad and was the very first ship to bring tourists to Antarctica in 1969. It survived previous groundings in Antarctica in 1972 and 1979. The ship is currently owned and operated by the Toronto-based adventure travel company GAP.